Michigan Housing Market Forecast 2022
Posted by Janice Allen on Saturday, July 9, 2022 at 11:36 AM
By Janice Allen / July 9, 2022
Comment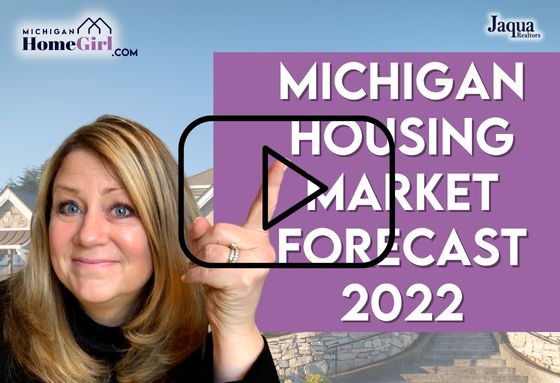 Michigan Housing Market Forecast 2022
Is it time to put your real estate plans on hold?
Hey everybody! Janice Allen, your Michigan Home Girl at Jaqua Realtors in Kalamazoo Michigan.
What is the Michigan housing market forecast for 2022? Is it time to put your home buying plans on hold? Are you thinking you can get a better deal on your dream home if you hold off?
If you're looking to buy a home in Michigan, prices may seem high right now, but by the end of the year, homes will cost more. Experts are saying we will continue to see price tag increases on homes.
These seven industry leaders provide housing market predictions. Here is a look at their housing market predictions 2022:
Fannie Mae 10.8%
Freddie Mac 10.4%
CoreLogic 9.6%
HPES 9.0%
National Association of Realtors (NAR) 8.4%
Zelman 8.3%
Mortgage Banker's Association (MBA) 5.8%
Across the board, experts are saying home values will continue to appreciate this year, on average, by 8.9% It's important to note that none of the experts are stating there will be a decline in prices. Why? Because there are not enough homes for sale, so prices will continue to go up.With prices on the rise, we can expect them to continue to climb, but at a more moderate pace than what we have seen over the past couple of years.
If you are looking to buy a home, sell or relocate, please reach out to me today. I'm happy to share with you the latest information and graphs on how you can make the best possible decision for you and your family.